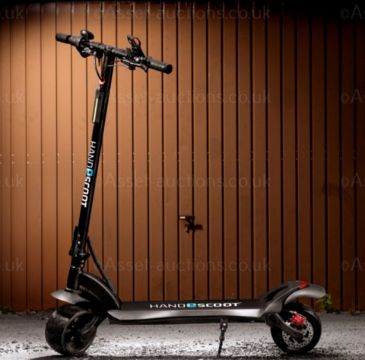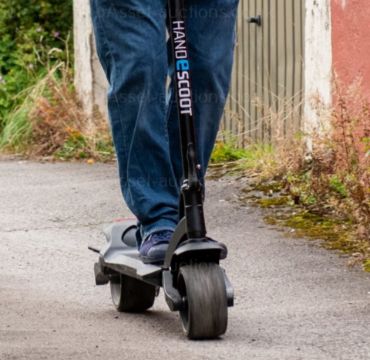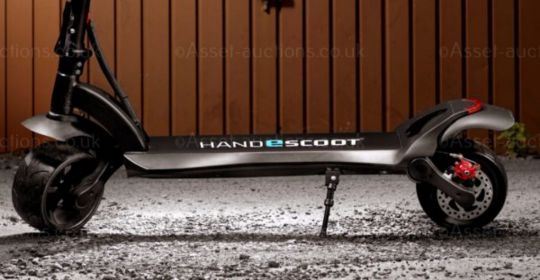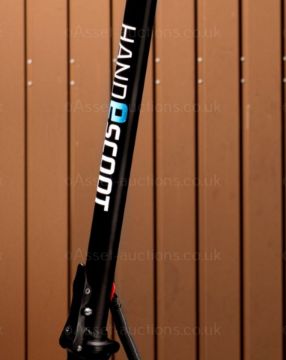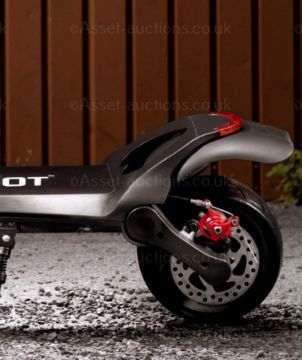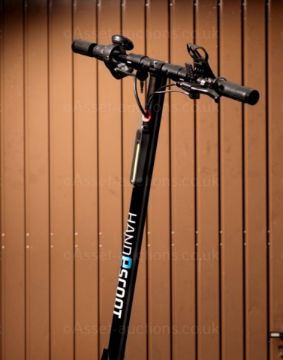 Click on the image to see full size
Use mouse wheel or two fingers to zoom in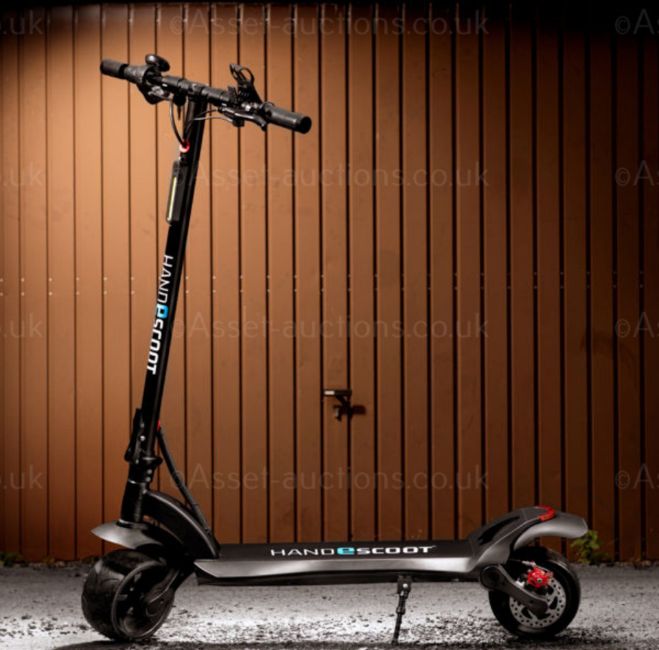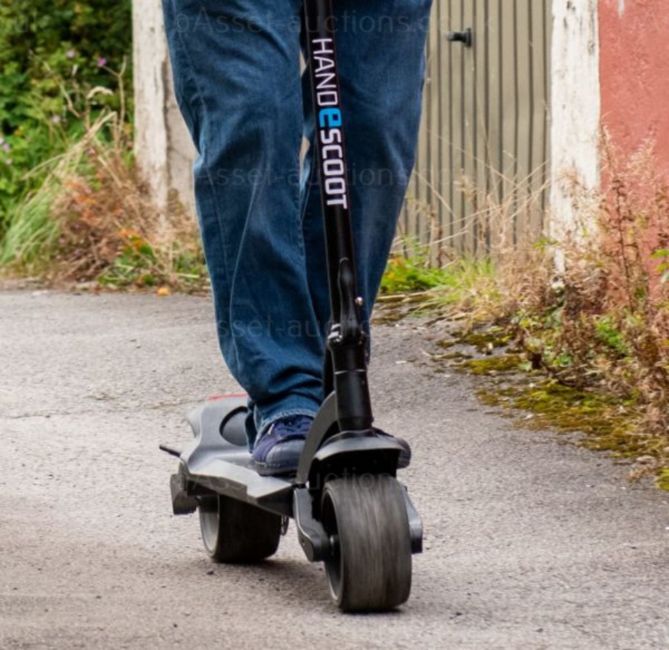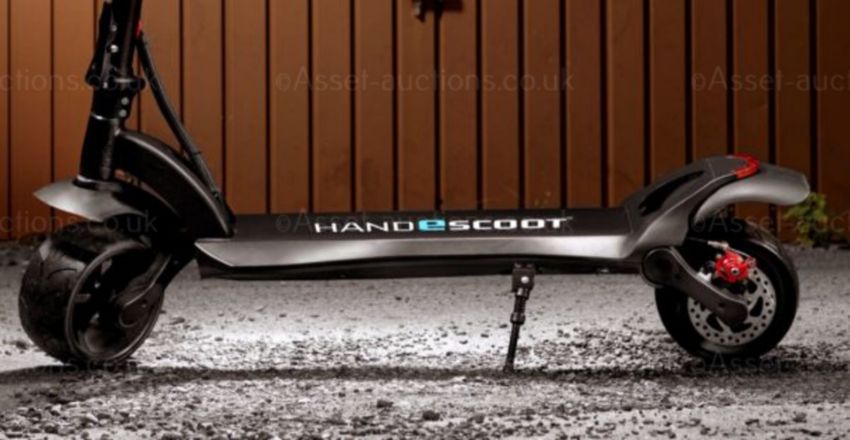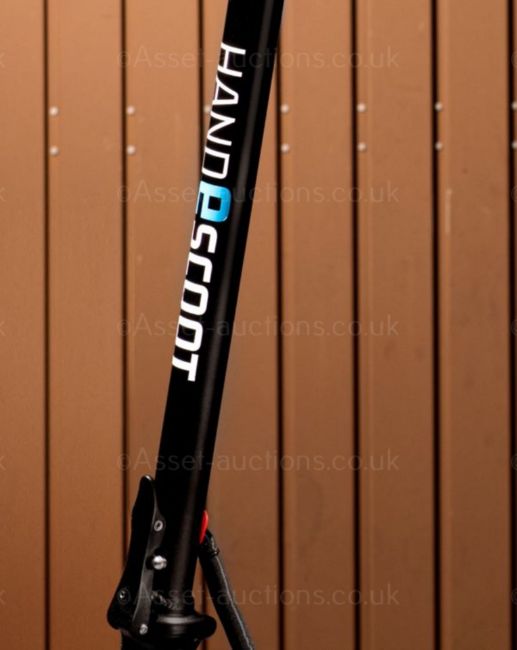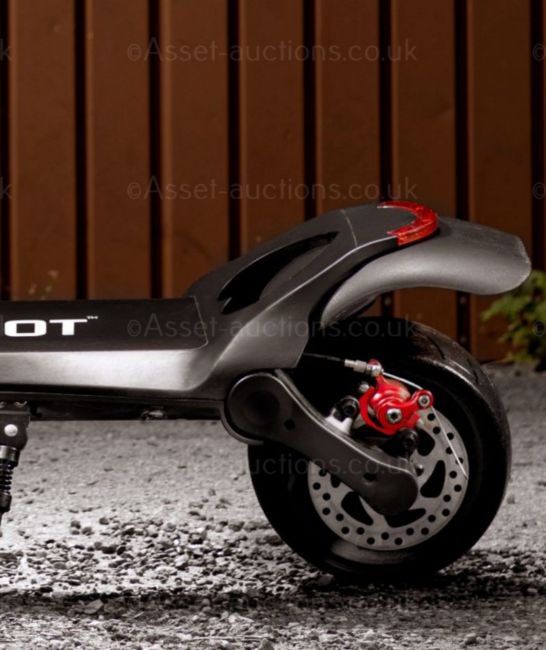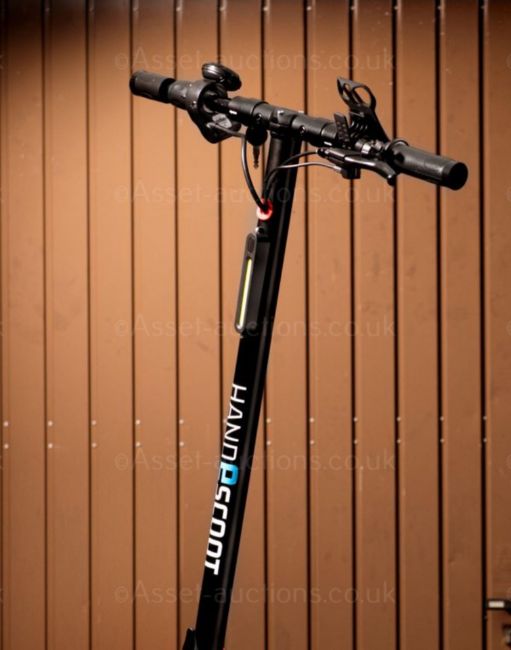 Please confirm purchase
You are about to buy this lot for
0
GBP
Bids do not include VAT, buyer's premium or delivery.
Clicking the confirm button is legally binding obligation to buy and pay for the lot should your bid be successful.
Proceed With Buy It Now?
We have noticed that your maximum bid is higher or equal to the buy it now price for this lot.
Would you like to discard your maximum bid and proceed with the buy it now option?
Timed auction
Lot location
See Lot Details, UK
BGL - BRAND NEW HANDESCOOT ELECTRIC SCOOTER, WIDE WHEELS, £60 OF HANDESCOOT EXTRAS INCLUDED *PLUS VAT*
The HANDeSCOOT electric scooter is sturdy, safe and with ample power and range from its 500 watt motor and 13AH lithium battery. The Wide Wheels design makes the HANDeSCOOT an extremely safe and comfortable ride.
Ð Range 18 Ð 25 miles with full battery charge
Ð Top Speed 22 miles per hour dependant on weight and terrain
Ð Weighs 18 kg (40 pounds)
Ð Maximum load 150kg (23 stones 8 pounds)
Ð Folds for carrying
Ð LCD data screen for speed, gear and battery status
Ð High performance aluminium body
Ð Front & Rear Suspension
Ð 9Ó Wide Wheels tyres
Ð Front LED head lamp
Product Information:
LCD Screen Data you can see gear speed, mileage, current speed and battery.
Tyres Ð 9Ó Wide Wheel
Material type Ð Aluminium Body
Suspension Ð Dual Suspension
Brand Ð HANDeSCOOT
Maximum weight capacity Ð 150 Kilograms
Single Motor Specification Ð HANDeSCOOT single motor 13ah
Battery capacity Ð 36V 13aH
Rated power Ð 500w
Max torque Ð 18.5 Nm
Max mileage Ð 40 km on full battery
Max gradiant Ð no more than 25 degree
Max load Ð 120 kg
Dimension Ð 1097 x 545 x 1100 mm
Weight Ð 17.2 kg
Gears Ð Automatic
Braking-cable disc brake Ð back wheel only by squeezing handle
YouÕll receive:
The HANDeSCOOT 9Ó Wide Wheel ÔLargoÕ Folding Electric Scooter
Charger
User Manual
PLUS
*£60 of HANDeSCOOT extras, absolutely FREE!
Included: Rear view mirror, Phone holder, Clip-on bag, Superior grip silicone handles, tool kit.
PLEASE BE AWARE OF THE ELECTRIC SCOOTER LAWS
DELIVERY £40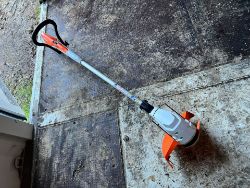 Auction address
Asset Auctions
Systems House
Lodge Lane Industrial Estate
Tuxford, Notts
See Lot Details, UK
NG22 0NL
United Kingdom
These standard terms and conditions set out the contract terms between a vendor and purchaser of goods. As auctioneer, we are not party to the contract. They explain your rights and obligations. You will be deemed to have accepted and be bound by these Terms and Conditions when you click "I have read and accept the Auctioneer's Terms and Conditions" on the auction website and accept them as fair and reasonable. You cannot proceed to bid without accepting these terms.
All lots purchased, whether sold at a physical or on-line auction or sold directly by private treaty, will be governed by these terms and conditions and enforced in accordance with the laws of England.
We may revise/update these Terms & Conditions and website/auction content at any time by amending this page/auction listing website. Please check this page from time to time to take notice of any changes we made, as they are binding upon you. The auctioneer will decide the conduct of the auction without having to give reason.
E & OE - We do not guarantee that the website, or any content within it, will be free from errors or omissions.
The Buyer acknowledges that this is a 'trade only' style auction sale opposed to a 'consumer sale' for the purposes of the Consumer Rights Act 2015 (which replaced the Sale of Goods Act 1979 (as amended by the Sale and Supply of Goods Act 1994) and the Unfair Terms in Consumer Contracts Regulations 1977/1999 and the Buyer shall not seek to rely upon any conditions or warranties implied thereby.
Registration is only available to bidders over 17 years of age as subsequent bidding creates a legally binding contract.
All bidders will register their details, including full name, business name, address, contact land line and mobile telephone numbers, email address, vat number and Company registered number where applicable. We cannot normally change the bidder's details on the invoice and if so requested there is a one-off £20 plus vat charge to cover the extra administration costs incurred.
FOR GDPR purposes it is agreed that the bidder's details may be added to our mailing list for the purpose of informing the bidder of future auctions that may be of interest to him/her.
We have the right to disable access to the website at any time, if in our reasonable opinion you have previously failed to comply with any of the provisions of these Terms of Use.
All overseas bidders and any bidder unknown to us, or if so requested, will deposit the refundable sum of £1000 into our business account, as below, held against any potential non-performance or until a satisfactory record of trading is established, whereupon it will be refunded.
By bidding the bidder acknowledges he/she accepts these Terms & Conditions as fair and reasonable and expects them to be fully recognised by the Courts.
It is acknowledged that any bidder is bidding as a principal, acting by way of trade, not a private individual, either personally or on behalf of an authorised by a legal entity (i.e. limited liability company, partnership or group) unless specifically otherwise agreed in writing with us.
You have a duty of care to protect your login and password details. To be clear, it is NOT possible for another person to simply 'hack' your account, due to the high level of security of the on-line system. If you do allow another person, family member, visitor, employee, colleague etc., knowingly, carelessly or otherwise, access to your login and passwords, card details and contact number - you will be liable for any and all bids made.
The buyer acknowledges he is not relying on any warranties or representations made by the vendor or the Auctioneer or any of their employees, agents or representatives. All representations, warranties and conditions, express or implied, statutory or otherwise in respect of all and any of the lots are expressly excluded and without limitation any warranties and conditions as to title, satisfactory quality, fitness for purpose and description are excluded to the fullest extent as permitted by law. Neither the vendor nor the Company shall in any circumstances be liable to or to compensate the buyer nor shall the buyer be entitled to rescind the sale or reject any lot for an error omission or misstatement contained in the catalogue.
Most vehicles/lots are either pre-owned, salvage, part-exchange, repossessed, ex-finance, seized vehicles and from liquidations and insolvencies or finance companies hence there can be no refunds or discounts offered under any circumstances. Your bid is your legal commitment to purchase.
No warranty is offered or implied. Some clearly selected vehicles are sold 'with a trial'. This is a 15 minute limited (non driving) trial to confirm that there are no undeclared major faults and that the vehicle meets description, allowing for normal wear and tear and condition commensurate with the age, mileage and use of the vehicle. In case of dispute, the auctioneer's decision is final. It is irrevocably agreed that the auctioneer is the final arbiter in all cases of dispute.
All bids are valid, even if at the time of placing it, the reserve is not met, as we always submit the highest bid to the vendor during or shortly after the auction and they may agree to accept the bid.
Vendors regularly ask us to reduce/remove the reserve towards the end of the auction and put lots 'on sale'. Remember when placing a bid you are bidding to buy. Occasionally we may find it necessary to remove a bid (as we may have recognised the bidder as a previous defaulter for example). In this case you will be emailed/text (usually prior to the conclusion of the sale) within 24 hrs that you are the current highest/winning bidder. Our on-line auction sale platform will use 'auto bid extension'. If a bid is placed with less than 10 minutes remaining, that Lot end time automatically extends to 10 minutes. This will keep occurring until there is a 10 minute period with no further bids and bidding on that Lot ends.
A sale is concluded at the fall of the hammer or in the case of an on-line auction, the time-out or in the case of a private treaty or tender, when the bid is accepted by the Auctioneer, confirmed in writing by way of email of the Company's invoice. The buyer acknowledges and agrees that he has entered into a legally binding contract of sale with the vendor to buy the lot and the buyer is legally obliged to purchase the lot. The Buyer shall, by approx. 10.00am the following working day, be sent an invoice by email in respect of the monies due for the lot(s) purchased. This is due for settlement on the same day. If you are unable to do this please do not bid.
Details on the lot may change due to new information received during the course of the auction and it is the bidder's responsibility to check the detail of the lot prior to bidding.
No bid may be cancelled or withdrawn. The auctioneer does not have to accept the highest bid and all bids are due to approval and acceptance by the vendor.
The company may sell any lot by private treaty or tender before or after the auction.
Risk of damage to or loss of the lot passes to the buyer immediately upon the conclusion of the sale.
We have no liability to guarantee your continuous internet access to the website and encourage bidders to place their bids early rather than waiting until the last seconds of the lot.
Again, this is not a Consumer auction, by clicking the box to accept our terms and conditions you are also confirming that you are bidding by way of trade and not a Consumer. The Sale of Goods Act 1979 (as amended by the Sale and Supply of Goods Act 1994) does not apply to this auction.
Reserve - the vendor is entitled to change/remove any reserve price at any time before the conclusion of the sale. Vendors regularly ask us to reduce/remove the reserves towards the end of the auction and put items 'on sale'.
The highest bidder at that time will receive a short email/text to that effect, which supersedes a previous automated 'reserve not met' style email.
The vendor, his agent or the auctioneer may bid on any lot up to the reserve price.
The Auctioneer, the Company and/or the vendor is not bound to accept the highest bid or any other bid placed in the course of the auction.
Lots - Misrepresentation Act 1967 - No person in the employment of Asset Auctions Ltd has any authority to make or give any representation or warranty whatever in relation to any Lot. (Clearly a phone call post auction to enquire "will the van get me home?" or the like, is only a best guess!)
All lots are offered "as is, where is", subject to not being sold or withdrawn and without any express or implied warranty, and not represented to be in a roadworthy condition, mechanically sound or maintained in any particular condition whatsoever. Lots may not be fit for purpose and may require substantial repairs at the buyer's expense. The lots may not be of satisfactory quality.
You acknowledge and agree that we have excluded our liability in respect of terms that would otherwise have been implied into the Contract of Sale under the Sale of Goods Act 1979 (as amended) to the fullest extent permitted by law, including without limitation the terms relating to lots complying with their description and/or being fit for a particular purpose.
We expressly disclaim the accuracy or completeness of any and/or all information provided to you regarding lots whether provided in written, verbal or digital image form. Lot information is provided for convenience only. You agree that you will not rely on lot information in deciding whether or how much to bid on any lot. Lot information includes without limitation: year, make, model, condition, damage amount, damage type, roadworthiness, drivability, accessories, mileage, odometer readings, vehicle identification numbers, title, repairs needed, repair cost, repair history, title history, service history and total loss history. We expressly disclaim any and all representations (whether written or verbal), warranties and guarantees regarding the lots we offer for sale. The lots we offer for sale may be missing components or parts. We do not guarantee that vehicles meet or can be modified to meet local emission or safety or legislative requirements. It is your sole responsibility to ascertain, confirm, research, inspect and/or investigate to your satisfaction the lot information prior to deciding to bid and how much you wish to bid on any lot taking all of the above into account. By bidding you have agreed that we have provided sufficient details for you to make an informed choice when bidding. You agree you have bid accordingly.
You should not accept that the odometer reading is correct. We will attempt to verify mileages however, even if marked 'verified', that will be only verified by the information that is available at the time of listing and is given as a guide, not a warranty. No odometer readings are warranted unless stated "warranted" in the lot details.
Each bidder will have a different expectation of the condition of any pre-used lot - particularly a used vehicle. All vehicles are therefore photographed with multiple hi-resolution photographs which are able to be enlarged to full screen. Representative / library photographs may be used if multiple similar lots available. No claims whatsoever will be entertained if, as a direct result of the failure of the bidder to examine the photographs, lots are found to have defects that would have been clear had the bidder properly examined the photographs on screen.
Any damage that does not impact on the safety or operability of the vehicle including cosmetic damage, such as minor/repairable dents, scuffs, broken/cracked glass or plastics, paint or external surface rust is assumed, commensurate with vehicle mileage, age and use.
All commercial vehicles over 3 years old or with an odometer reading over 100,000 miles or a non-verified mileage are automatically "sold as seen". In this instance, no complaints can be entertained from the buyer for whatever reason unless the buyer has previously viewed the vehicle prior to auction end.
Lot details are provided in good faith, with information available at the time of listing and are not to be read as a statement or representations of fact, but as a general guide, they may be revised at any time prior to conclusion of the auction with new information that has come to our attention. It is a contractual obligation that bidders make their own investigations where dimensions, mileages, hours, condition or authenticity are critical.
We do not conduct "hpi" type checks any vehicle, however we guarantee to sell all lots free of any financial encumbrance or lien. Buyers may request that we carry out an Hpi check on their behalf at a pre-paid cost of £12 plus vat per check, not less than 24 hrs prior to the conclusion of the auction.
Viewing is available and encouraged on all lots by prior appointment. The Buyer agrees he/she has been given every opportunity which might reasonably be expected to examine and inspect the Lots. The exact condition and functionality of a lot is therefore assumed to be confirmed by the bidder, prior to bidding. Viewing is entirely at bidders own risk. We cannot be held liable for any damage or omissions that could have been discovered had you made a reasonable inspection of the vehicle. No allowances of any description whatsoever will be made in the event of problems as a result of failure to view - it is our strong advice not to bid on anything at all if you have not viewed to your satisfaction first - our descriptions and photos are insufficient to rely wholly upon for the purposes of bidding.
All lots are sold as requiring some attention and not necessarily fit for any purpose. By bidding it is acknowledged that the bidder has allowed for all risks envisaged within these terms and conditions and has bid accordingly.
The mention of condition of any item within the lot details does not imply that they are in full and efficient working order or present at all (e.g. if a vehicle is listed with a CD player or air conditioning, it will not have been tested unless specifically stated).
No bids are retractable. Buyers who do not inspect lots prior to bidding, do so at their own risk.
It should be understood that vehicles are usually transported to our compounds and merely driven for the purpose of photographing and parked up for viewing - we have not necessarily personally viewed or test driven any vehicle. No vehicle is road tested on your behalf. By bidding you acknowledge the above. We recommend you view any vehicle before you bid and that it be collected with a trailer/transporter.
As is normal practice at auction, all lots are sold "as seen" (or "unseen"), with all of their faults, incompleteness and imperfections and as such are sold unfit for any particular purpose. If you have not inspected the equipment, assume that it does not run, it is in an unsafe state and unfit for immediate use or beyond repair. The bidder relies upon the description at his/her own risk.
The buyer acknowledges that the content displayed on the auction site is provided for general information only. It is not intended to amount to advice on which you should rely. You must obtain professional or specialist advice before taking any action on the basis of the content on the site.
We shall have no responsibility to check the accuracy of any information provided or made available to us (which includes information listed in catalogues, on-line listings and any other literature in use from time to time) and you rely on all such information at your own risk.
It is for you to satisfy yourself as to the quality, condition and provenance of any goods on the site through your own inspection and enquiries PRIOR TO BIDDING and we shall accept no liability for any information supplied to us (in particular, where we have been dependent and/or reliant on information provided by third parties (e.g. DVLA, VOSA, Hpi etc.) and, for the avoidance of doubt, we do not undertake to check or scrutinise such information).
The web pages may contain technical inaccuracies and typographical errors. Although we make reasonable efforts to update the information on the auction website, we make no representations, warranties or guarantees, whether express or implied, that the content on the website is accurate, complete or up-to-date. You agree to use our website at your own risk.
Limitation of Liability - For the avoidance of doubt, we act as agents of the vendor
To the fullest extent permitted by law, the buyer agrees to indemnify and keep indemnified, defend and hold us, the vendor, any Insolvency Practitioner, Administrative Receiver, Administrator and Liquidator acting as agent for the vendor harmless from any and all damages, losses, liabilities, costs, expenses (including legal fees, disbursements and VAT, taxation, duty, charges) or claims (whether direct or indirect, known or unknown, foreseen or unforeseen) made by you, any authorised bidder or your guests or agents, arising from or related to property damage or any other event that occurs on or at any of our premises, collection sites or storage compounds, during collection, loading or transporting including driving the lot away.
As Auctioneer, Asset Auctions Ltd is not a party to the contract and therefore has no liability in that respect. We offer lots for sale and conclude contracts as agents on behalf of vendors. The resulting legal contract is between the buyer and that vendor and we are not responsible for any action or default on the part of the vendor or buyer including but not limited to, loss or damage in contract or tort, negligence, breach of statutory duty, consequential or indirect losses or damage, legal fees, loss of income or revenue, loss of business, loss of profits or contracts, loss of anticipated savings, loss of data, waste of management or office time, travel costs, fuel however arising.
Notwithstanding the above, in no event shall our liability to you exceed the hammer price of the lot. Equally, the vendor's liability to the buyer shall never exceed the hammer price of the lot.
Whilst risk in the goods passes to the buyer at the time of acceptance, all ownership and title in the goods remains with the vendor until it has received the purchase price.
The Auctioneer accepts no liability whatsoever in relation to the Goods whilst left on its premises.
Nothing in these terms and conditions excludes or limits our liability for death or personal injury arising from our negligence, fraudulent misrepresentation, or any other liability that cannot be excluded or limited by English law.
In the event that the Auctioneer unknowingly sells a lot that was not eligible for sale (i.e. there is a third party interest that comes to light) then the Auctioneer shall be entitled to immediately rescind that sale without any further liability to the Auctioneer and/or Company or the vendor.
Payment - The Buyer shall pay the full sum for the lot(s) purchased, as invoiced by email, no later than 16.00hrs following the day of the sale, upon receipt of which, the collection details for the lot(s) will be automatically emailed to the buyer. Time is of the essence. All lots shall be at the Buyer`s risk immediately upon the conclusion of the sale.
The reference for payment shall be the invoice number - any other reference will create a delay in processing.
Payment by bank transfer (details also on invoice) is the usual and preferred method.
ALL PAYMENTS TO:
ASSET AUCTIONS LTD
Sort Code: 20-72-33
Account Number: 03203247
IBAN: GB18BUKB20723303203247
SWIFT/BIC CODE: BUKBGB22
Bank details can be also be found on your invoice for both domestic and international transfers. We cannot accept card payments for auction purchases.
Where the buyer has not paid the purchase price, the fees, buyer's premium and vat by the due date for payment, the auctioneer shall be entitled to charge £20 plus vat per day admin charge and have the right to resell the relevant lots without notice to the buyer. Any charges or losses incurred on any resale of the lots will be payable by the buyer to the auctioneer.
It is acknowledged that the Auctioneer holds a mandate from the vendor to take whatever action it deems necessary to collect the funds due by the buyer including legal action via the Courts including the costs incurred. The buyer in default will, after 7 days be passed to our debt collection agency and will be liable for any and all costs incurred in debt recovery. These costs are 20% of the initial debt plus 8% statutory interest on outstanding amounts.
Non payers will be banned across the ibidder/bidspotter platform.
Buyer`s Premium - Payable by all buyers, the buyer's premium is payable in addition to the hammer price and is always subject to vat. The indicated % on the actual listing will be the overriding amount.As a guide Buyers will pay a Buyer`s premium of 20% for lots up to and including £1,000, 15% for lots over £1,001, for each Lot purchased whether by Auction, private treaty or tender.
Occasionally where a lot, previously reserved in excess of £1,001, has the reserve removed, the buyer's premium may still show 15% payable within the lot details, however, unless the bid goes beyond £1,001, the lot will fall back into the 20% commission category.
Clearance / collection of lots - Unless by prior agreement in writing, lots will incur a £20 plus vat storage charge for each day that lot is not collected after 7 days of the auction end. We reserve the right to re-offer uncollected lots to recover costs & to re-offer uncollected lots to recover outstanding costs. NB: ANY LOT NOT COLLECTED AFTER 3 MONTHS WILL BE CONSIDERED ABANDONED.
Removal of the lot(s) will be strictly by appointment and entirely at the buyers own cost and risk without liability to the auctioneer or vendor. Collection from location is the Buyer's responsibility, neither the Company nor the vendor provides a packing/delivery/loading service unless specifically stated in the lot description.
Where the buyer has purchased more than one lot, the auctioneer reserves the right not to allow any lot to be removed from its premises until payment in full has been made in cleared funds in respect of all the lots purchased.
All lots must be cleared without fail by the date displayed on the sale details and/or the on-line catalogue, and in all cases 7 days after the auction. Availability of lots is not guaranteed beyond this time Unless by prior agreement in writing/email.
Buyers or their representatives must arrange collection and removal of each lot in compliance with all relevant legislation, using best industry practice and particularly in the case of a motor vehicle, under the Road Vehicles (Construction and Use) Regulations 1986 (as amended 2003).
Buyers are responsible for the roadworthiness of any vehicle purchased at auction or by private treaty. We have not and will not give a warranty on the roadworthiness of any lot. We sell on the basis that no vehicle is roadworthy, unless specifically stated. We recommend you view any vehicle before you bid and that it be collected with a trailer.
The buyer or their collection agents shall provide evidence, as and when requested by Asset Auctions Ltd, of their Public Liability Insurance policy.
Default by the Buyer - If the buyer fails to arrange collection by the specified date, the vendor may charge the buyer for the reasonable costs of storage at a minimum £20 plus vat per lot per day after 7 clear days following the end of the auction plus part rent, wages and other expenses as a result of buyer non-collection within the specified time table
If the auctioneer has rescinded the sale due to non-performance by the buyer and the lot has been resold by the auctioneer or by the vendor, the buyer shall reimburse the vendor with any shortfall.
Deposit - Any bidder unknown to us, or if so requested, will deposit the refundable sum of £1000 into our business account, as above, held against any potential non-performance or until a satisfactory record of trading is established.
Export/European Buyers VAT re-payment- it is your sole responsibility to comply with all import and/or export procedures, inspections, fees, proof of emissions or any other requirements that may apply to your purchase.
All overseas buyers (EU and non EU) will be charged VAT at the current rate on each Lot purchased.
A European buyer is one that initially registered with their address outside of the UK but within Europe.
EU buyers wishing to re-claim vat MUST provide proof of their EU vat registered status.
The VAT paid on the lot will be refunded upon receipt of a copy of the bill of laden for goods (not driven vehicles) as proof of export, providing this documentation is received within 3 months of the sale date.
Driven vehicles: HMRC state that a ferry booking reference is insufficient proof of export as is only proof that you booked the ferry, not that you actually made the journey! (The new V5 registration (equivalent) document in your country would be definitive proof and you have 90 days to submit a copy of this back to us).
We are unable to refund the VAT on the Buyer's Premium as this 'work' was carried out in the UK.
Export/Non-European Buyers VAT re-payment - A non-European buyer is one that initially registered with their address outside of Europe.
All overseas Buyers (EU and non EU) will be charged VAT at the current rate on each Lot purchased.
This will be refunded upon receipt of a copy of the bill of laden as proof of export, providing this documentation is received within 3 months of the sale date. We are unable to refund the VAT on the Buyer's Premium.
SIMPLE PAYMENT TERMS : Full payment by bank transfer must be received in GBP only, WITHIN 24 HRS OF AUCTION END
Asset Auctions.
MONEY BACK GUARANTEE
Get the item you won* or your moneyback—it's that simple!
Our Money Back Guarantee applies to virtually everything on our site, there's a nominal 1% extra indemnity fee for coverage.
It's automatic and covers your bid price plus 75% of the buyer's premium (BUT NOT SHIPPING / DELIVERY OR ANY OTHER COSTS.)
* SUBJECT TO TERMS AND CONDITIONS OF AUCTON AND AUCTIONEER'S DECISION IS FINAL.
THIS IS A TRADE ONLY AUCTION - AND YOU ARE DECLARING YOURSELF AS BIDDER BY WAY OF TRADE - ALL BIDS ARE VALID - CLIENTS MAY DECIDE TO REDUCE/REMOVE THE RESERVE TOWARDS THE END OF THE AUCTION - SO REMEMBER - YOU BID TO BUY! WINNING BIDDER INVOICES WILL BE EMAILED THE NEXT MORNING AND NEED TO BE SETTLED THE SAME DAY. IF YOU ARE UNABLE TO DO THIS, PLEASE DO NOT BID!
Buyers Premium is based on hammer price AND STATED WITHIN THE LOT ( CLICK BUTTON 'ADDITIONAL FEES APPLY' )
0-£1,000 20% + vat
£1,001 + 15% + vat
Payment to be made in full by 16:00 hrs the day following the sale date. IF PAYMENT HAS NOT BEEN RECEIVED BY THIS DATE THEN YOU WILL AUTOMATICALLY INCUR A CHARGE OF £20 + VAT A DAY PER LOT - NO EXCEPTIONS!
Viewing encouraged, strictly by appointment with auctioneers. Please email accounts@asset-auctions.co.uk to arrange.
Vehicles are transported to our compounds and merely driven for the purpose of photographing and parked up for viewing - we have not necessarily personally viewed or test driven any vehicle. Any appraisal is given purely as a guide/opinion by the delivery driver/photographer not a mechanic/expert and does NOT form any part of the description.
All lots are strictly sold with no grading or guarantees and can include pre-owned, salvage, part-exchange, repossessed, ex-finance, seized vehicles and from liquidations and insolvencies, there can be no refunds or discounts offered under any circumstances. Your bid is your legal commitment to purchase.
You expressly acknowledge and agree that you are not a consumer but a trade purchaser and as such it is fair and reasonable for us to exclude, restrict or limit our obligations and liability to you in respect of the lots we offer for sale on behalf of sellers or ourselves.
The Buyer acknowledges that this is a 'trade only' auction sale where bidders may be on-line or in person and as such is NOT a consumer sale for the purposes of the Consumer Rights Act 2015 (which replaced the Sale of Goods Act 1979 (as amended by the Sale and Supply of Goods Act 1994)) and the Unfair Contract Terms Act Regulations 1977 / 1999 and the Buyer shall not seek to rely upon any conditions or warranties implied thereby.
ALL PAYMENTS TO:
Account Name: ASSET AUCTIONS LTD (BARCLAYS)
Sort Code: 20-72-33
Account Number: 03203247
IBAN: GB18BUKB20723303203247
SWIFT/BIC CODE: BUKBGB22
Lot details are provided in good faith, with information available at the time of listing and are not to be read as a statement or representations of fact, but as a general guide, they may be revised at any time prior to conclusion of the auction with new information that has come to our attention. It is a contractual obligation that bidders make their own investigations where dimensions, mileages, hours, condition / damage or authenticity are critical.
VAT is applicable on all lots unless stated otherwise in the lot description. Where a lot is marked *no vat* this is on the hammer only - the buyer's premium always attracts VAT.
Delivery: we can arrange quotes from 3rd party fully insured delivery companies. However please be aware that all deliveries, both driven and transported, are undertaken by third parties on your behalf and are separate from the auction sale contract. We cannot be held responsible for any issues that arise during the delivery process.
Collection within 7 days, following the end of auction STRICTLY BY APPOINTMENT ONLY- unless by prior agreement in writing, any items not collected by this date will incur a storage charge of £20 + VAT a day. FREE STORAGE FOR 7 DAYS ONLY. WE RESERVE THE RIGHT TO RE-OFFER UNCOLLECTED LOTS TO RECOVER OUTSTANDING COSTS. NB: ANY LOT NOT COLLECTED AFTER 3 MONTHS WILL BE CONSIDERED ABANDONNED.
E & O. E.
BY BIDDING ON LOTS WITHIN OUR AUCTION, THE BIDDER ACKNOWLEDGES THAT THEY HAVE DONE THEIR OWN RESEARCH, CARRIED OUT THEIR DUE DILIGENCE, HAVE THOROUGHLY INSPECTED THE LOT(S) / PROPERTY. SELLER MAKES NO REPRESENTATIONS OR WARRANTIES IN ANY MANNER EXPRESSED OR IMPLIED, AND BUYER AGREES TO THE TERMS LISTED IN THIS AUCTION, AND INDEMNIFIES SELLER AND AUCTIONEER AGAINST ANY CLAIMS AS TO FITNESS FOR USE AND PURPOSE.
Location: see individual lot details.
Viewing: Strictly by appointment